Panic Attacks Help
that's Practical & Powerful
by Dave Carbonell, PhD
Here is the panic attacks help you need to make a full recovery from panic attacks, phobias, and chronic anxiety.
My Panic Attacks Workbook shows you how to overcome panic attacks and regain the freedoms you enjoyed before panic invaded your life. It will take you by the hand and guide you to recovery, step by step. If you like the self help materials on my website, you're going to love this book!
It's like coming to my office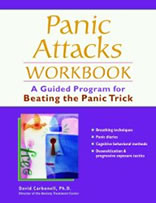 I wrote it to give you the same panic attacks help you'd get if you came to my office. You'll go through the same steps we'd cover if I worked with you personally, and get the specific guidance you need to make these steps work for you. The steps are based on cognitive behavioral therapy (CBT), and include some methods from a newer form of CBT called Acceptance and Commitment Therapy (ACT). The proven methods in this book show you how to identify the panic trick, and give you the tools you need to solve it.
Click cover to buy now.
Ships within 1-2 days.
Beat the Panic Trick
This 240 page book contains 23 chapters, divided into 4 sections. The first section describes the Panic Trick, how it works to keep you a prisoner of your fears, and helps you become clearly aware of how the trick works in your daily life. The second section starts you on the active path to recovery with hands-on exercises that prepare you to respond in new ways to panic. The third section takes you through the process of progressive exposure and desensitization. The fourth and final section offers practical tips and techniques for overcoming 5 common phobias - claustrophobia, social phobia, and the fears of flying, driving, and public speaking.
This is the Panic Attacks Help
you need
This book sells for $17.95 in most bookstores, but I offer it here for $14.95, plus shipping.
You can save an additional $5 by ordering Panic Attacks Workbook and The Worry Trick together. You can order three books - Panic Attacks Workbook, The Worry Trick, and Fear of Flying Workbook -   and save an additional $11. Or you can buy all four of my self help books and save $18!

Panic Attacks Workbook is also available in an audio book format, for $14.95.

If a book eliminates your need for just one therapy session, you would come out ahead!
But it will do much more than that. You can waste, not just money, but precious time and energy - your time and energy - if you don't fully and accurately understand how to undo the chronic trick of panic and worry.
In this book, I give you that understanding, and guide you in its use, so that you can obtain the recovery you deserve.
Here's what Dr. Reid Wilson, noted anxiety expert, says about Panic Attacks Workbook.
Dr. Carbonell, a long-time colleague of mine, has written a wonderful, inspiring and comprehensive guidebook for winning over panic attacks. While panic attacks are terrifying for the sufferer, they take over territory in a person's life by playing a very simple but powerful game. In Panic Attacks Workbook you will find the solid and clever strategies needed to win this mental game and take back your life.
And here's what Neal Sideman, self-help advocate, has to say.
In my opinion, Panic Attacks Workbook is the best self-help book for overcoming panic - and I have read nearly all of them. The author, Dr. David Carbonell, is one of the leading experts in the field of anxiety disorders. With clarity, compassion and humor, he presents the most effective approaches to overcoming panic. Reading this book is like having several sessions with a caring, expert therapist. If you are facing the challenge of panic attacks, this book is the place to start.

In 1998, after years of struggle, I overcame panic disorder & agoraphobia. Since 2001, I have been directing a popular website that provides resources for people recovering from these conditions. Among all the self-help books, my #1 recommendation is Panic Attacks Workbook.
If you're looking for panic attacks help, this book will give you the guidance you need.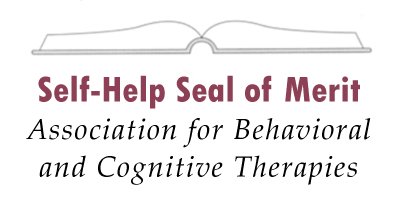 Click to Order Panic Attacks Workbook in paperback
Click to order the audio download

---
Order two books - Panic Attacks Workbook & The Worry Trick
Save $5!

---
Order three books - Save $11!
Panic Attacks Workbook, The Worry Trick, and Fear of Flying Workbook
---
Click here for information about treatment of anxiety disorders

Back to Panic Disorder from Panic Attacks Help
---
For more info about Dr. Carbonell, click here.

---
---
---
© 2010-2021 David Carbonell, PhD.  Anxiety Coach® is a registered mark.
P.O. Box 256539, Chicago, IL 60625
312.912.9989
Last updated on July 23, 2021
---